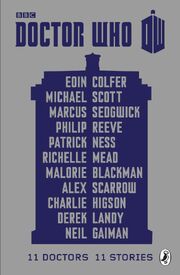 The 50th Anniversary Collection is an anthology of short stories written by famous authors based on the characters of Doctor Who. The collection was created to celebrate 50 years of the television series. They were first published as EBooks on Amazon individually, but were released in this anthology on the 23rd of November 2013.
Back Cover
Edit
11 Doctors, 11 Stories, 1 Time Lord

A new adventure for every incarnation, by some of the most exciting writers living in our galaxy.
Short Stories
Edit
Ad blocker interference detected!
Wikia is a free-to-use site that makes money from advertising. We have a modified experience for viewers using ad blockers

Wikia is not accessible if you've made further modifications. Remove the custom ad blocker rule(s) and the page will load as expected.